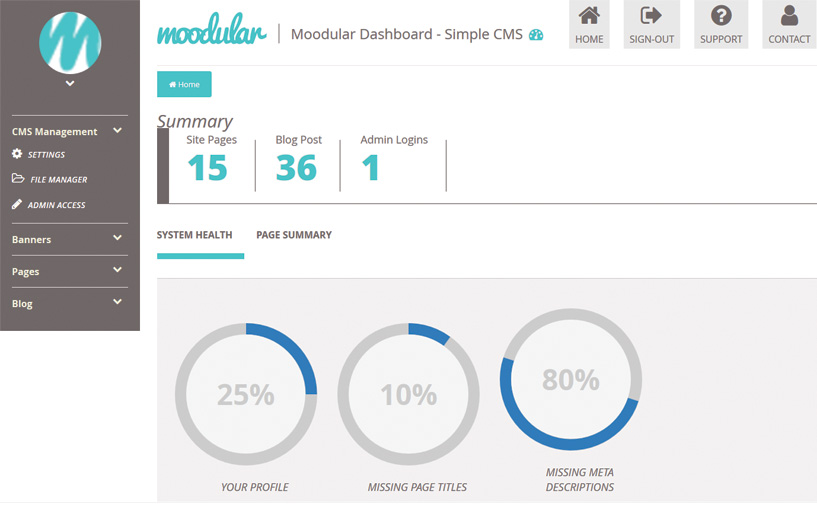 Simple CMS management with Moodular Do you have an existing website, but cannot update the site because it's so complicated to use? Then Moodular could be for you. Why waste time with another CMS that isn't working for you and could potentially be causing you distraction and wasted time that's better served in your business.
What is Moodular CMS?
Moodular is our own content management system for your website which has been developed over many years and is developed in a way to make things easy and flexible to adapt, hence the word "Moodular" as its developed so we can easily add and remove Modules from the CMS depending what you need the site to do.
You can use Moodular for:
Ecommerce websites selling products
General information based websites
Invoice / Customer Management systems How can it benefit my business? You need a simple CMS system and don't need the learning curve of spending ages knowing how it all works – That's where Moodular comes in as its user friendly and is designed assuming anyone should be able to navigate around the system
Benefits of a Simple CMS
Easy to manage
Has only the options you need
Doesn't need regular system updates
User Friendly
Affordable Want to know more?
If you like what you see, why not consider a new bespoke website at a low cost with the Moodular System integrated. Speak to us today either via email at hello@e-techuk.com or by calling us at 0845 303 9394.
Watch our Facebook Live Video
28th of March 2017 By Simon